IT'S MORE THAN
CROSSING
THE FINISH LINE.
Congratulations RFWTT 2019!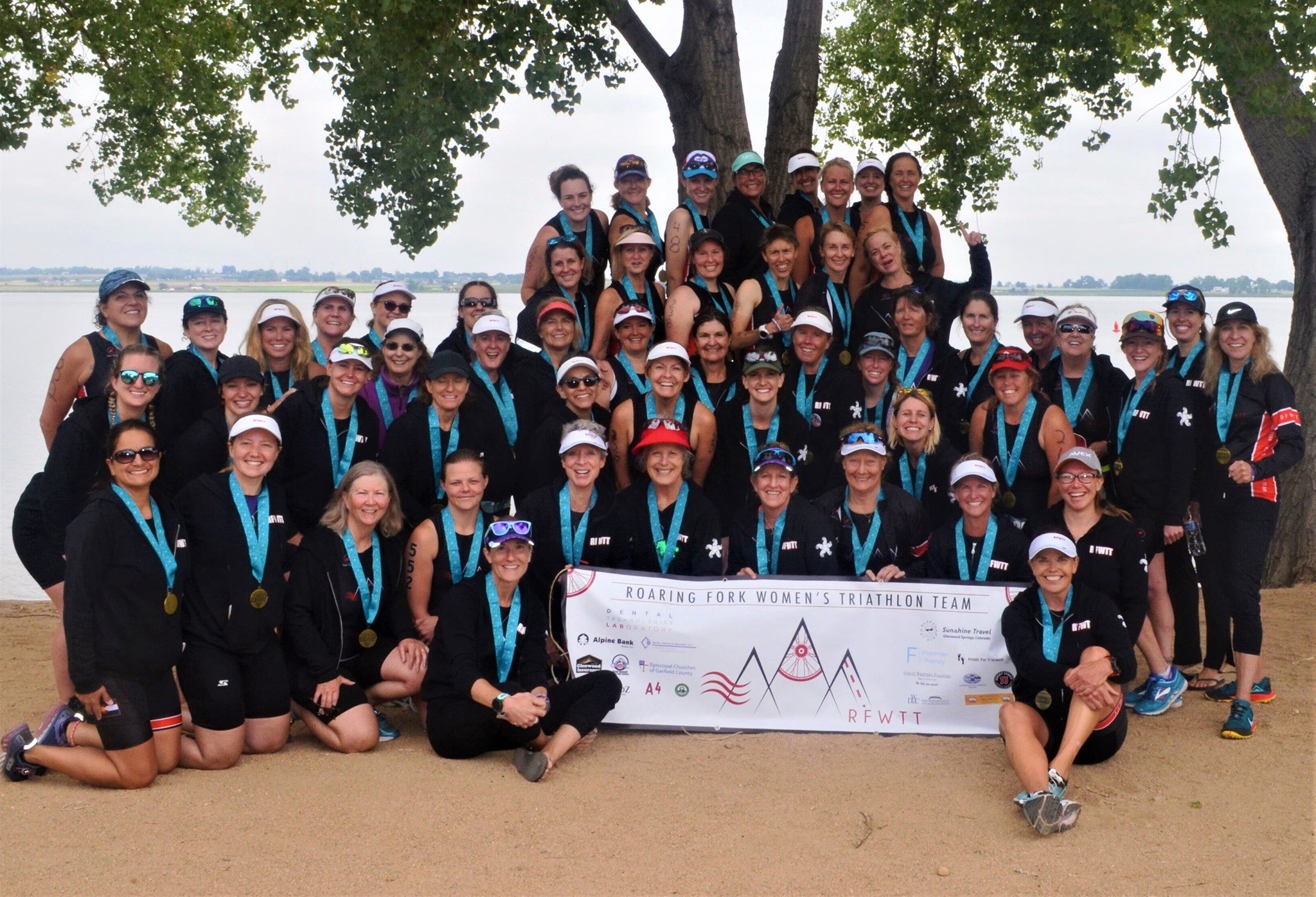 About Us
For the past twenty years, RFWTT has coached hundreds of women to finish their first triathlon. The team has helped many women awaken their inner athlete. Many of the women fell into two camps: they either once participated in sports but quit to work or raise families or they never had the confidence to try sports in the first place. The RFWTT gives women another chance to train, laugh, work-out, high-five, sweat, and accomplish things they never thought possible.
We train in the summer twice a week, for 13 weeks, from May to August. We meet in Glenwood Springs on Wednesday mornings from 6-8 a.m. where the emphasis is on running/walking/cycling/heart zone skills. We meet again on Saturday mornings or Monday evenings to learn pool and open water swimming skills. Extra workouts, lectures, and clinics are added throughout the summer.
In August, we will take a field trip to Longmont to participate in the Divas Tri where Tri-Babes become Tri-Umphs when they cross the finish line! The event consists of a 1/2 mile open water swim, an 11.5 mile bike ride, and a 5K (3.1 mile) run/walk.
Registration is
Closed.
How Do I Register for the RFWTT 2019?
Official registration through the Reg Fox system opened at 6 a.m. on Tuesday, April 9, 2019. The Click to Register button, in the black box on the Registration page, will take you to the Reg Fox page for official registration and payment.
After registering on Reg Fox, navigate back to our website and fill in forms listed on the registration page.
Congratulations! Then and ONLY THEN will you be officially registered for the RFWTT!
For more information contact our lead coaches:
Carla or Sharma at RFWTTcoaches@gmail.com
We encourage you to take this journey with us and let your inner athlete shine! Please join our team to learn the basics of swimming, cycling and run/walking, and prepare together for the Tri Diva (click to register Tri Diva) on August 18, 2019 in Longmont, CO.
This year we will fill our roster with 25 Alumni (Tri-Umphs) and 25 New Participants (Tri-Babes). When these quotas are filled, unfortunately we have to close registration. The answer to this is to register early! If spots are filled,  email us to be put on the wait list. The answer is a always to sign up early!
We hope this website answers most of your questions. If not, please contact us or after you have paid and registered for the team, our orientation meeting helps answer additional questions. The orientation is on Wednesday, May 8, 2019, 6 p.m. at the Glenwood Community Center. Please note: To come to orientation you do have to reserve a spot on April 9, 2019 with registration and payment. As noted above, we have a maximum quota of women for the team, and then registration for a spot is closed.
Another place to look for information is on our FACEBOOK page!  The RFWTT Facebook group shares team-related news and photos.  To join the group, click on the link in the footer portion of this website and then click on "Requests to join this group."
Thank you,
Coaches Sharma Phillips and Carla Westerman
Sharma Phillips

LEAD COACH

Carla Westerman

LEAD COACH
Jeannette Chiappinelli

Assistant Coach

Heidi Halladay

Assistant Coach

Jessie Johnson

Assistant Coach

Jenny Schaiberger

Assistant Coach

Sherrie Setterberg

Assistant Coach

Amy Spradlin

Assistant Coach
   Have Questions? Contact Our Staff
I do want to take a minute and thank you . This has been the coolest experience of my life. I feel like, not only have I been inspired, but I'm inspiring others. I have loved every minute of it and I am so grateful to all of you and all that you do. I have never been surrounded by women that make me feel like I can do anything, and that is how you and my team mates make me feel. I feel pretty, I feel strong, I feel capable, I feel limitless and I feel alive when I am around you and the team. You have created such a beautiful thing and you inspire me to be a better person. You have changed my life and I am so very, very grateful.

First Year Tri-umph 2014

Nancy, I feel GREAT about the training. My heart rate has decreased quite a bit doing the same pace as four weeks ago. For instance, walking up the hill this week, my HR was the same as it was during our parking lot walks last month. My swimming time has also improved greatly as I have learned the right way to breathe! I feel that both my strength and my endurance have improved dramatically. I have gained so much confidence doing this training and feel better about my body, my health and my abilities than I have in years. I forgot how FUN it is to work with a team — I love it! I so appreciate all the work you and Judy put into it!

First Year Tri-umph 2014

Still smiling! Having a few days to reflect on the race I realized how much I have learned. Our dinner was amazing and I felt so at home with all of the women. This team has truly become family. The race was becoming so much more than just a race, but I wasn't nervous. I've never been as calm getting into the water and I can actually say I "enjoyed" the swim. I pushed as hard as I have ever pushed on the bike (knowing my weakness) but still felt strong and even passed people (loved the ages on the leg!). Then the run…and I spotted a teammate ahead of me (not knowing it was you yet). It sparked my desire, inner athlete, and competitiveness to try and catch up. This wasn't my race this was a race for the team. And then I figured out it was you. It wasn't about passing you it was about running FOR You. I just kept repeating "this one is for you coach" and dug deeper. I wanted our team to do this, to place and show you how strong you have made all of us. And then I read you caring bridge this morning…and I hope it keeps you moving forward. WE DID IT! You have all my love, respect and pride in how you tackle each and every day and your ability to keep everything in perspective even as you head off to treatment. Thanks for an amazing, life changing weekend.

Third Year Tri-umph 2016

You Rock! You both are so inspirational and motivating. I wouldn't be where I am in triathlon without you! Thanks, Kelly

Second Year Tri-umph 2013

Nancy and Judy I want to you know that you do an exceptional job of pulling this all together. It was very well-organized and very well-run, and I will highly recommend it to any potential triathlete I meet! I enjoyed the knowledge that I can run long(er) distances than I've ever tried to run before. Not something I really want to know because now I don't have any excuses, but now I also don't have any excuses! You chose exceptional people to be your assistant coaches, too. Special kudos to Caryn, Heidi, Sharma and Carol. They were extremely supportive to me personally. Thanks, Laura

First Year Tri-umph, 2013

It was a fantastic summer– one of the best things I have done in a long time! I loved the camaraderie from the participants and the coaches was amazing and unexpected. I have new friends, workout buddies and a new outlook on life. I learned about balance. If I tried this on my own, I would have tried to go to extremes in both exercise and nutrition. The training kept me in check and offered me a new perspective. This has been applied to other areas of my life as well. My husband keeps commenting on how I have positively changed both physically and emotionally. I already miss the trainings and the group on a whole. I cannot thank Nancy and Judy enough for your support, advice, teaching, encouragement and inspiration. Lynn

First Year Tri-umphs, 2013

I'm a pretty quiet person and not very comfortable in crowds. By the end of the summer I felt a part of something that was much bigger than I had imagined. I gained confidence in myself and comfort having others around me. The whole experience was fabulous. Linda

First Year Tri-umphs, 2013

I felt so prepared and was so pleased with the whole experience. I loved every minute and wouldn't change a thing! Something I gained but didn't expect to gain from my Tri Experience this summer was the mental as well as physical self worth. I have always been athletic and sports oriented but I never approached it from a mental standpoint. The visualization was amazing! This was very therapeutic for me. Just what I needed to get through the summer! I just want to thank you both so much for all the support, advice and training you gave me over the summer. I have been struggling with finding myself over the last couple of years. This experience and the energy and support I got from the two of you and the team was exactly what I needed! Sandy.

First Year Tri-umph, 2013

I was surprised at how many amazing friendships I gained, and how much triathlon training, preparation and doing it relates to real life. It is such a wonderful analogy. Always have a plan B. I want to know how much you made this summer incredible for me, I have so many fond memories and skills that I will take with me forward into what is about to be a very busy fall. Thank you!! Tina

First Year Tri-umph, 2013

It was wonderful to be around strong, fit women. I enjoyed having a community to be a part of. What seemed impossible at the beginning of the summer was very much achievable by the end. And I learned a healthier way to get there, without pushing too hard or doing too much. Thanks again for a great season! Teka.

First Year Tri-umph, 2013