IN MEMORY OF
NANCY REINISCH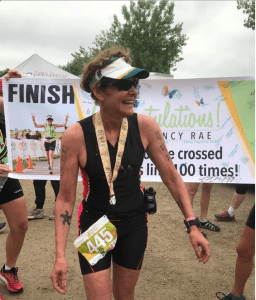 "Service is the rent we pay for a place on earth." Thank you, Coach Nancy, for embodying this quote with your life and for the permanent impact to our community and specifically to our Roaring Fork Women's Triathlon Team (RFWTT). Recently named 'Best Community Hero,' she has inspired and given back through numerous charitable initiatives including: Project ChARLIE (Chemical Abuse Resolution Lies in Education), the Advocate Safehouse Project, the Mother's Day Mile the Valley View Cancer "Coffee Walk and Talk Group," and our RFWTT. She was the 1995 recipient of the Garfield County Humanitarian Award, and the Athena Award winner in 2007. She has transformed many lives through these projects, as well as our team, coaching the RFWTT for almost two decades. Despite living with cancer for 13 years, in July 2018, she completed her 100th triathlon. We are forever grateful and blessed to have Coach Nancy touch our lives with her inspiring spirit.
Coach Nancy, may you rest in peace seeing your memory living on through the transformations you have inspired in our lives, and your words of wisdom to live by: "be safe, be honest, and drink plenty of water."
If you would like to give back in honor of Coach Nancy, donations may go to the Valley View Foundation for "Cancer Coffee Walk and Talk Group" (vvh.org).