Leading the team, Sharma Phillips and Carla Westerman facilitate and coach the Roaring Fork Women's Triathlon Team. The RFWTT was developed to fill a void for women athletes on the Western Slope of Colorado. We offer women in our rural valley the opportunity to learn the basics of swimming, cycling, and run/walking in a supportive environment that promotes cooperation over competition.
For the past twenty-four years, RFWTT has coached hundreds of women to finish their first triathlon. The team has helped many women to awaken their inner athlete. Many of the women fell into two camps: they either once participated in sports but quit to work or raise families or they never had the confidence to try sports in the first place. The RFWTT gives women another chance to train, laugh, work-out, high-five, sweat, and accomplish things they never thought possible.
We train in the summer twice a week, for 13 weeks, from May to the middle of August. We meet in Glenwood Springs on Wednesday mornings from 6-8 a.m. where the emphasis is on running/walking/cycling/heart zone skills. We meet again on Saturday mornings or Monday evenings to learn pool and open water swimming skills. Extra workouts, lectures, and clinics are added throughout the summer.
In the middle of August, we will take a field trip to Longmont to participate in the Divas Tri where Tri-Babes become Tri-Umphs when they cross the finish line! The event consists of a 1/2 mile open water swim, an 12.4 mile bike ride, and a 5K (3.1 mile) run/walk.
Coaches Sharma and Carla are fortunate to have some of the Valley's best staff and assistants to help them coach the team. Each summer, alumni assistants and staff make it possible to have quality work-outs for the different ability levels of the participants. The swim coaches have the difficult task of teaching swimming skills to a variety of levels. Yet, each summer they manage to get everyone trained to do the distance. There is always a staff member or assistant available for support, encouragement, or feedback.
The unique RFWTT roster has included a physically challenged world champion blind triathlete and many AOA's– adult onset athletes!
The Roaring Fork Women's Triathlon Team was established in 1999, by Nancy Reinisch, USAT Level 1 Coach and Judy Haynes, Personal Fitness Trainer, both of who led the team for 18 years. For more information, see our Founders Page!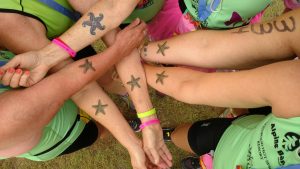 Coach Nancy had a starfish philosophy that she embodied in her life of service and triathlon. She celebrated her commitment with a beautiful arm tattoo. She often shared that philosophy with the team. In her honor, we continue to use the starfish philosophy to make a difference one person at a time…and sometimes we even get our own starfish tatts! Can you tell which is the real tatt?
Once upon a time, there was an old man who used to go to the ocean to do his writing. He had a habit of walking on the beach every morning before he began his work. Early one morning, he was walking along the shore after a big storm had passed and found the vast beach littered with starfish as far as the eye could see, stretching in both directions.
Off in the distance, the old man noticed a small boy approaching. As the boy walked, he paused every so often and as he grew closer, the man could see that he was occasionally bending down to pick up an object and throw it into the sea. The boy came closer still and the man called out, "Good morning! May I ask what it is that you are doing?"
The young boy paused, looked up, and replied "Throwing starfish into the ocean. The tide has washed them up onto the beach and they can't return to the sea by themselves," the youth replied. "When the sun gets high, they will die, unless I throw them back into the water."
The old man replied, "But there must be tens of thousands of starfish on this beach. I'm afraid you won't really be able to make much of a difference."
The boy bent down, picked up yet another starfish and threw it as far as he could into the ocean. Then he turned, smiled and said, "It made a difference to that one!"
adapted from The Star Thrower, by Loren Eiseley (1907 – 1977)
Sharma Phillips

LEAD COACH

Carla Westerman

LEAD COACH
Jeannette Chiappinelli

Assistant Coach

Jessie Johnson

Assistant Coach

Sherrie Setterberg

Assistant Coach

Nancy Zeigel

Assistant Coach

Margo Fishman

Assistant Coach

Lindy Clarke

Assistant Coach